by
Robin McKinley
and
Peter Dickinson
Previously reviewed:
Water
This is going to get really confusing, because I also have Kristin Cashore's
Fire
out at the moment (just haven't gotten around to reading it). SIGH.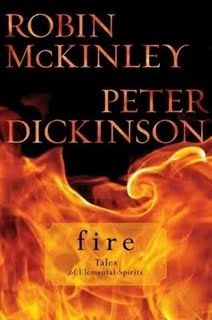 Overall, I thought this was a strong collection, maybe more so than
Water
. I always knew whose story I was reading, which isn't a bad thing--obviously both McKinley and Dickinson have distinct voices--especially since the overall focus of the collection is tight enough to give some sense of cohesion.
Thoughts on individual stories:
Phoenix by Peter Dickinson: the premise of this one was fascinating and the characterizations worked very well, I thought. I was a little confused by the setting at first; I couldn't tell if they were meant to be in England or America, or if Ellie was American visiting England (actually, I'm still not sure about that).

Hellhound by Robin McKinley: Okay, I'm going to admit to being a bit fangirl and reading McKinley's blog. So, given my background knowledge that McKinley has two dogs she refers to as hellhounds, I enjoyed this story a lot. Not that I'm trying to suggest that Miri is simply an extension of McKinley, although clearly they share some of the same interests. I also enjoyed the way family was shown in this one, and I felt that, although I tend to associate her work with ahistorical settings, this modern day story worked very well.

Fireworm by Dickinson: I didn't enjoy this one quite as much, but I think it was mostly personal prejudice* against prehistoric settings, rather than anything Dickinson did.

Salamander Man by Dickinson: probably my favorite of Dickinson's stories. The world was one of those where it's clearly not ours, but its just enough like ours to make it seem familiar. I liked the way Dickinson drew on the historical significance of salamanders while also expanding it.

First Flight by McKinley: absolutely my favorite story of the whole book. Ern was such a likeable character and I loved the way his relationship with his older brother was shown. Their world was also fascinating, and the conflict seemed both significant and not over-drawn.

*completely irrational
Book source: Inter-library loan