by Patricia McKillip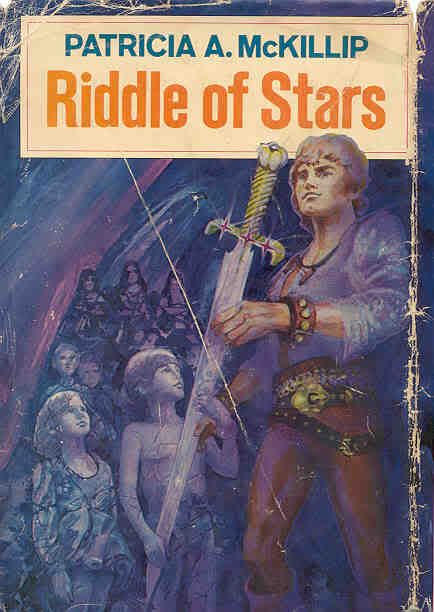 I linked to a full-sized cover for this one out of habit, but believe me, you don't want to click on it. It is terrible. TERRIBLE.
Which is a pity, because I really like this trilogy. It's McKillip's, for lack of a better term, 'questy' set.
Lord of the Rings, Crown of Dalemark
--hero sets out on adventure unwittingly, etc, etc. But McKillip works well with the conventions of her genre and ultimately I think that Riddle of Stars stands up as a representative of 'questy' fantasy done well. (The other two I mentioned are also in that category.) And although trilogies as a concept are a bit over-used themselves, I felt like this was an instance where it made sense. This story needed to be told in three parts.
The story begins with Morgon, Prince of Hed, waiting for the trading ships to arrive. When they do, they bring with them Deth, the High One's Harpist. And with that, Morgon's life changes forever (cue dramatic music).
Technically, the beginning of the story happens before this, when Morgon wins a riddle-game*. Deth is such a central character to the story, though, that I can see how beginning it with his arrival is the right thing to do. The first book,
Riddle-master of Hed
, is Morgon's; the second,
Heir of Sea and Fire
, is Raederle's; the third,
Harpist in the Wind
, is largely Deth's. I remembered the twist part-way through this read-through, but I still felt the force of it when it came (actually I think it just made it all the more poignant).
While the trilogy doesn't have the dream-like quality that I tend to associate with McKillip's best work, it does have the same kind of haunting and almost elegaic feel to it. If you like fantasy, especially LotR, I'd definitely suggest this one.
Book source: Washington State University
* I know. It's very Hobbit. But...it works.