by Robin McKinley and Peter Dickinson
This is the first in a planned series called Elementals, all consisting of short stories by Dickinson and McKinley.* The second, Fire, has just come out.** So, naturally, I decided it was time for a re-read.
Overall, I really enjoyed the book.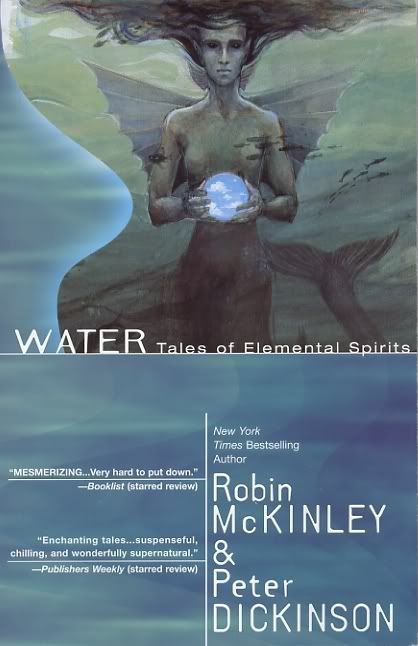 While the opening story, "Mermaid Song" by Dickinson did bother me slightly (it all seemed very expected, somehow--repressive society, child rebelling against said society, etc., etc.), the second story "The Sea King's Son" by McKinley was in the best fairy-tale-but-not-quite tradition (note some content in this one, although it's not very explicit). "The Sea Serpent" confused me, to be honest--I never quite grasped the intricacies of landscape or society. "Water Horse" was nice, especially in its deviation from the normal fairy-tale-ish ending. "Kraken" was intriguing and had some lovely images. "A Pool in the Desert" was welcome as a return to Damar (for those of you who may not be aware of the fact, I read
The Blue Sword
ten times between 7th and 8th grade). I liked it, although I was jarred by the references to our authors, which seemed out of place somehow--they located me a little too firmly in reality.
There is a re-issued edition with a new cover and introduction, but I couldn't find it anywhere online, so I'll just have to wait and buy it eventually.
* they're married
** and what's with the overly-similar titles this year? There's Catching Fire, by Suzanne Collins; Fire, by Kristin Cashore; and Fire, by McKinley and Dickinson. I give McKinley and Dickinson a pass because they've had this book coming out for years.
Book source: Inter-library loan
Robin McKinley's website
[and blog, if you are a fan and didn't know:]
Peter Dickinson's website