by Georgette Heyer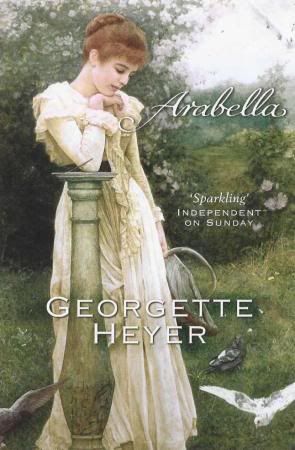 I have a few favorite Heyer books:
Devil's Cub, The Grand Sophy, Frederica, and Sylvester
.
Arabella
is the latest addition to this storied company (I'm sorry. I don't know. The words just come out somehow). Anyway, why do I like it so much? I think it's because both Arabella and Our Hero seem genuinely nice. It's not that they don't make mistakes, because they do.
But
, in a genre where heroines tend to either be full of pluck and backbone, or full of fluffy hair and long eyelashes that make the hero think of kittens, and where the heroes tend to either be arrogant dandies or arrogant sportsmen, these two stand out. Arabella sort of fits in the kitten-ish category, but she also has a strongly developed sense of morals and compassion. She honestly cares about people and she doesn't care who might tell her that it's not fashionable to help those who need it. The hero sort of fits in the arrogant dandy category, but he has a genuinely nice side to him that reduces the arrogance and makes him a more real character.
In short, I enjoyed it. Also, as usual, Heyer gives us a great supporting cast, from Arabella's brother Bertram and his friend Mr. Scunthorpe, to Lord Charles Fleetwood.
Book source: University of Oregon
Other Heyer reviews:
{These Old Shades; Sprig Muslin; Sylvester; The Corinthian; The Convenient Marriage}
{Cotillion}
{
The Talisman Ring; The Nonesuch
}
-----
I actually bought this one! It was part of a recent Amazon purchase. Lots of fun, of course, but I really love Arabella. For one thing, although she certainly loves pretty things, she also has a strong moral sense and a great deal of compassion. (I reviewed it fully here.) [July 2010]