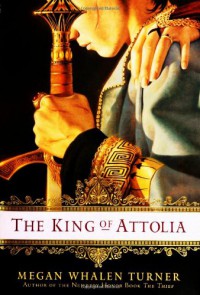 by
Megan Whalen Turner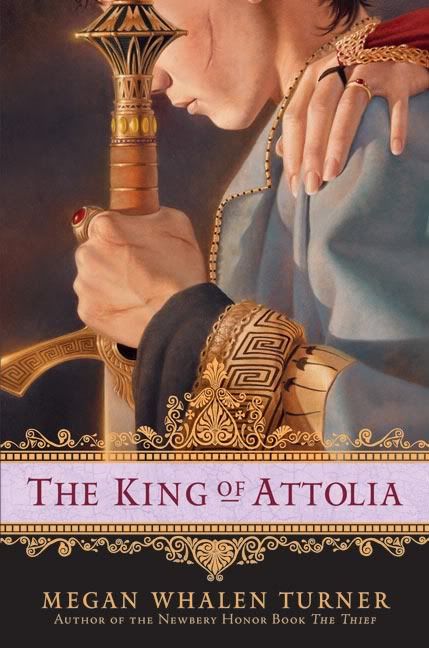 After this review I won't have anything else to say about Attolia* until March 23, which is when
Conspiracy of Kings
will be released. If you think I'm not counting down the days, you're insane. (Background here: my favorite series tend to be those which have already been fully published--not like I choose it that way, it just happens--so this giddy mixture of anticipation and impatience is new to me.) Sigh. I hope I've convinced one or two of you to pick them up. If I have, my work here is done.
What can I say about this book? Not much, plot-wise, since once again huge spoilers for the first two books would be involved. Alas. Let's just say that all of our favorite characters are back, plus a few more who prove their complete and utter awesomeness! Notably, Costis, a guard in the Queen's Guard, who does something rash and has to deal with the consequences.
By this time, assuming the reader is going through the series in order, we're in on the joke. We know that Gen has something up his sleeve, even if we don't know exactly what it is. And if you are an
obsessive
long time, ardent fan, there are some lines that will just make you squee. There are some others that make me cry. Every.single.time. (I cry easily over books and movies, but still.) And you know what? Every book in this series is better than the one before it. I don't know how MWT manages it. I seriously do not. (And the first ARC reports are coming in for CofK:
this one is definitely happy
. But SPOILERS for the rest of the series.) Also in this book, the return of Rosemary Sutcliff references and a moment where Gen quotes himself in
Thief
AND Howl in
Howl's Moving Castle
at the same time.
This book, incidentally, contains my favorite simile of all time: "The queen was settling on the edge of the bed, ungainly with hesitation and at the same time exquisite in her grace, like a heron landing in a treetop." (p. 208) It's just so incredibly appropriate and beautiful for that character and moment. And the fact that my second favorite simile of all time is also in this book should tell you something.
The emotional journey that Turner has taken these characters on is wonderful, unexpected and rewarding. She never settles for the easy answer. Gen has gotten what he wanted most in the whole world, but at a price. At a
high
price. Nonetheless, this is the book where he goes beyond being simply a thief, or even a patriotic thief, to being something--well, I'll just say that someone makes a claim about what he could become at the end of the book, and I agree.
One of the other subplots I love about the books is Gen's spiritual journey. When he starts off in Thief, he doesn't really believe in the gods of his country. By the end of that book he is forced into belief. In QoA, he does believe, but he still doubts and questions. For Turner to take him from the beginning of the Thief, when he thinks of the gods as old legends to the end of KoA, when he says "Whether I am on a rafter three stories up or on a staircase three steps up, I am in my god's hands," and for that journey to be believable, is quite remarkable.
A few favorite quotes (I had to leave out lots of good ones because of spoilers):

She knew he had both hated and loved those cousins who were now beyond both love and hate. p. 97

Expecting better of royal closets, Costis went to bed disappointed. p. 302

Costis was puzzling through the convolutions of human relationships, which were so unlike the neatly arranged patterns in a fireside story. p. 307

If we truly trust no one, we cannot survive. p. 331

* the technical term for this series is the Queen's Thief series, but I've never managed to get behind that one.
Book source: my personal library
Previous posts:
The Thief
;
The Queen of Attolia
-----
I decided to re-read KoA because I needed to see how to write a really long scene from multiple perspectives, something Turner does brilliantly. Then I forgot what I was reading for and just read. This book: so awesome. Every. Single. Time. This time through, I really noticed Sejanus and Dite and how their relationship plays out and is just beautiful and heartbreaking. Gaah, MWT is amazing. [April 2011]